Current Projects
---
Map of Speech Accents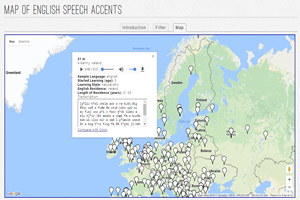 Built using data provided by George Mason University's Speech Accent Archive, this map allows users to explore accents around the world as they all read the same sample paragraph.
Reading Tool for Foreign Language Learning through Grammar Translation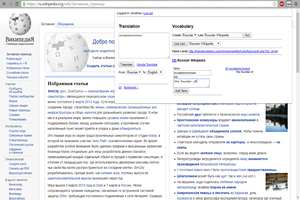 As I work through my own interests in learning Russian, I've decided to work on a tool that facilitates learning through the grammar translation method, which I believe to be particlarly useful for adults who have a high-beginner or intermediate grasp of a language and its grammatical concepts. Readers who have enough knowledge to glean meaning from context will benefit from on-the-fly translations using services like Yandex or Google Translate, and can maintain one or more lists of vocabulary lists that can then be opened as mobile-friendly flashcard sets when they're on the go. Study your vocab on the train, in the line at the grocery store, or as your falling asleep, and then return to the full interface later to continue reading to learn!
Timeline of Cause and Effect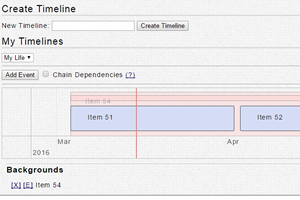 As part of an effort to develop genealogical tools for documenting lives and relationships between people, places and things through time, I am currently working on a simple Timeline application that will allow users to create events, assign dependencies between these events ("I wouldn't have met Barbara if I hadn't taken that trip to Venice back in 1998"), and then visualize how their lives might be different if they remove certain events, or see how experiences chain together to bring about important events later in life.
AAHGS Presentation: Creating your Family Web Site
21 March 2015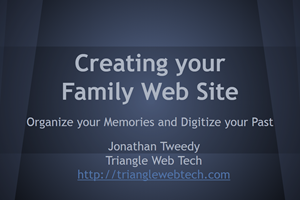 In this presentation to a meeting of the NC Piedmont chapter of the Afro-American Historical and Genealogical Society, I briefly discussed how to obtain web space through a hosting service, set up a domain name for your site, connect to the web site with FTP software, and install Wordpress in the web hosting control panel.
After the initial slide presentation, I presented some examples of Wordpress in use, as well as a custom project called Letters Across the Pond as an example of how you can digitize materials through transcription and scanning, and organize them into a collection that presents their content and the people and places referenced within them in the context of historical time and space.
Genealogical Information Strategy: Data Curation, Visualization, and Entity Relationships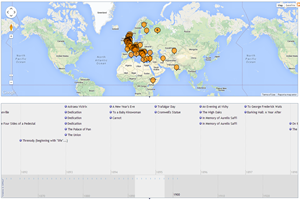 Building on questions that arose during the development of a project called Letters Across the Pond, this ongoing investigation explores solutions to problems in genealogical entity management, artifact digitization, and data visualization. Ranging from how to best store, tag, and mark up images to how to combine disparate family trees by identifying identical people who are referenced in each, the issues of digitizing our heritage are explored from many angles.
In conjunction with the Genealogical interests described above, solutions are being explored that may facilitate the documentation of life experience in such a way that they can easily be viewed in time and space. Connections between people and places at various times during their lives, as well as the interpersonal connections that exist at junctures in time are considered as relevant data schemas are devised. Tools such as the Google Maps API and Simile Timeline and Google Timeline are explored as possible solutions to the visualization challenges surrounding the display of this these types of information.
College Search Tools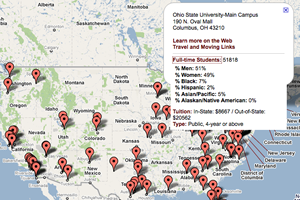 I'm interested in putting together a map of colleges that draws from IPEDS data to allow students to search for colleges by size, demographics, geographic location, religious affiliation, cost, and other factors that are important to new college applicants. Users will be able to identify favorites, and maintain checklists for each as they go through the application process, with each list customized according to any special requirements by the college in question.
The tool will roll in features for planning trips to visit colleges, as well as provide information on the community and resources associated with each, ranging from dining and accommodation when you visit to housing and utilities when you move there.
Aggregating and Organizing Home Search Data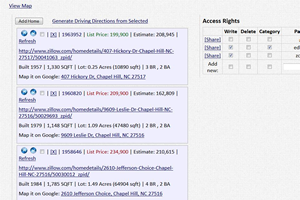 I started working on this simply to be able to share a list of favorite properties with my friends, family and real estate agent. As the list evolved, I began adding additional features to help manage our options until it evolved into an elaborate tool that allows users to manage multiple lists, control custom access to any of those lists using pass codes, categorize properties according to statuses like "scheduled", "interested", "favorite", "seen", or simply "listed", and even obtain optimized driving directions for tours of scheduled homes, starting and ending at a meeting spot of their choosing. There is also an option to view all of the properties as color-coded pins on a map.
In progress: Properties are currently added by cutting and pasting a URL (for example, Zillow, which is my favorite option), but I hope to expand this into an accompanying browser extension that will allow for easy adding of properties any time they are added within Zillow's own favoriting interface. (When a user saves the home to Favorites, the action will be detected and duplicated on this list, as well.)